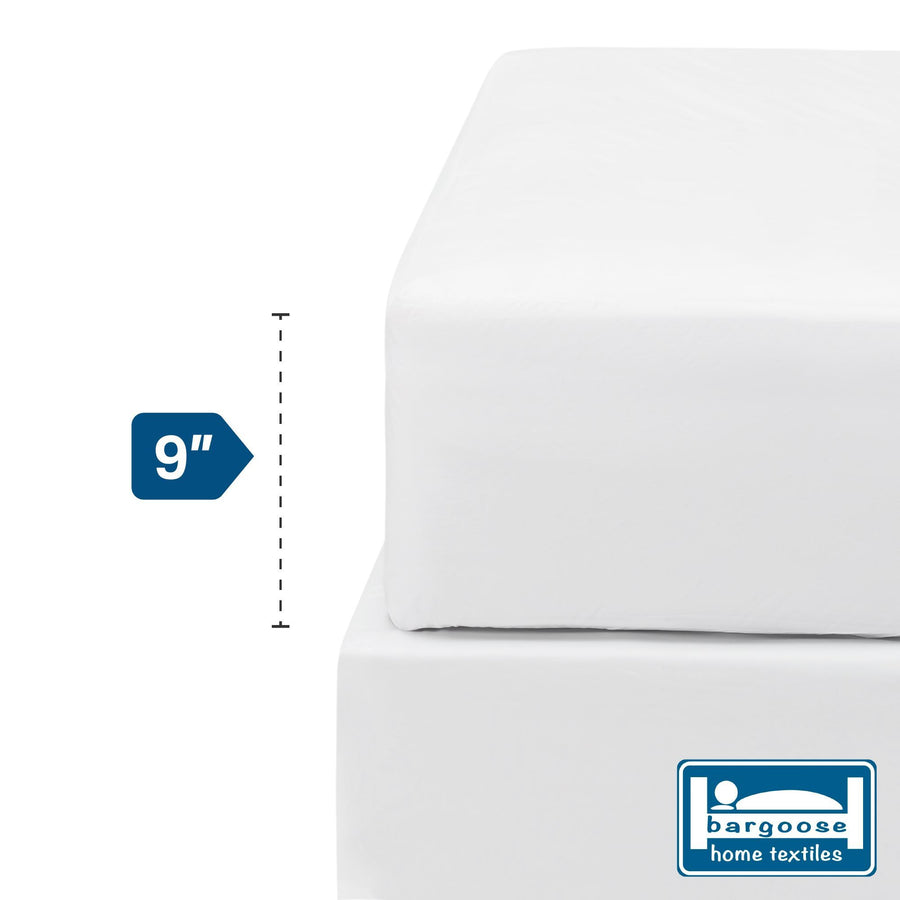 Vinyl Mattress Cover - Fitted Six (6) Gauge Waterproof Mattress Protector
Bargoose has the best fitted waterproof vinyl mattress covers. 
You can be sure that our vinyl mattress covers will provide you with the best protection.  Our 6 gauge, heavy duty vinyl has a brushed silk finish, and is tested and certified to be bed bug bite proof! The brushed silk finish reduces noise found in other waterproof sheets and protectors.  Plus, you don't have to worry about any mold, mildew, fungi, or odor causing bacteria, as our vinyl covers are treated with an antimicrobial to inhibit their growth.
In addition, you can be sure of our heavy weight vinyl covers' durability, as they have electronically sealed seams, making them stronger.   
WATERPROOF: Designed like a fitted sheet for easy on and off bed changes while providing a waterproof barrier from liquids, oils, lotions, and other spills.

EFFECTIVE BED BUG BARRIER: Unfortunately, bed bugs are very difficult to control. That is why we take our mattress protection very seriously. Not only are our covers waterproof to hold up against the worst accidents, they are designed to prevent bed bugs from biting through the top surface of the cover, offering protection while you're asleep.

DUST MITE BARRIER: Dust mites are microscopic and invisible to the naked eye, yet a constant problem for millions who suffer daily from allergy and asthma triggers. Bargoose vinyl mattress protectors prevent dust mites from passing through the surface of the protector where they would normally multiply. By reducing dust mite exposure to the mattress, the sleeper can better control their sleep environment, resulting in reduced allergy triggers and an overall improvement to bedroom air.

FIRE RETARDANT: Our heavyweight 6-gauge vinyl covers safeguard against spills, stains, and moisture resulting from accidents and fluids. The thickness of vinyl also makes our protective covers fire retardant to give you even more protection. The covers are topped off with a brushed silk finish to eliminate noise and allow for undisturbed rest, along with electronically sealed seams to ensure long term use. Vinyl protectors also allow for easy care - simply wipe clean with a damp cloth.

THE PERFECT FIT: The fitted style of our mattress overlay gives you that tight, snug feeling that is usually associated with fitted covers, along with the top and side protection of true fitted encasements. Increase the longevity of any mattress in your home, whether in your master bedroom or a guest room. These waterproof covers are great for the massage, hospitality and medical industries as well!

EASY CARE: Simply wipe clean with a damp cloth / sanitizing solution to clean.

Available in: Twin, Long Twin, Hospital Twin, Hospital Twin XL, Full, Long Full, Queen, King, and Cal King Mattresses

Available in case pack
Without A Doubt Bargoose Has The Best Vinyl Mattress Covers!