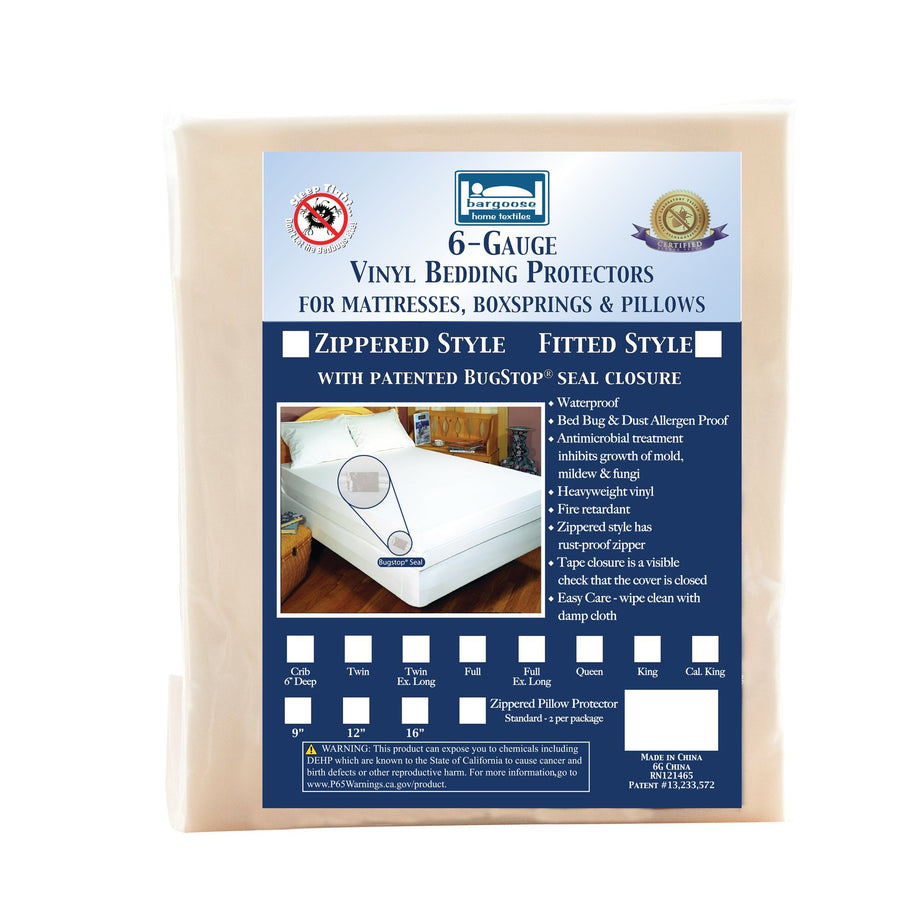 6 Gauge Vinyl Zippered Pillow Protectors - The BedBug Solution™ for Your Pillows - Packed in Pairs
Have you been dealing with the torment of bed bugs? If so, it's time to take action and protect your pillows! Our vinyl zippered pillow protectors are perfect for safeguarding your pillows from sweat, spills, and other allergens. Packed in pairs, they are an affordable and easy way to keep your pillows clean and free of all allergens. With three different sizes to choose from, you're sure to find the perfect fit for your pillow. Order yours today and get relief from the torment of bed bugs!
Benefits of
Bargoose
 6 Gauge Vinyl Pillow Protector:
Available in three different sizes
Standard Zippered - 21" x 27"
Queen Zippered - 21" x 31"
King Zippered - 21" x 37"
6-gauge heavy-duty vinyl – Bargoose's zippered bed bug proof pillow covers come in 6-gauge vinyl quality. Its thickness makes it highly durable and long-lasting. In addition, they have electronically sealed seams for improved resistance against moisture and allergens.

Fire retardant – Our bed bug solution is also fire retardant, giving you added protection in case of an unwanted fire incident.

Brushed silk finish – We have opted for a brushed silk finish to eliminate the unwanted crinkly noise and ensure comfortable sleep for you and your family.

Allergen barrier – Our bed bug proof pillow protector, available in sets of two, prevents dust mites and other allergy-causing elements from reaching your pillow.

Waterproof - Our pillow protectors are waterproof and are well-equipped to ensure that spillage of any kind will not impact your pillows. 
Some Commonly Asked Questions
How to protect your pillows from bed bugs?
Bed bugs are a common nuisance in most homes. So it is vital for you to have an effective defense system to minimize their impact and control their growth. Our BBS vinyl zippered pillow protectors are designed to prevent bed bugs from biting and invading through the cover's surface. It ensures optimum protection for you and your family.
Do bed bug protectors work?
Bargoose's BedBug Solution®️ is designed to trap pre-existing bed bugs and prevent new ones from finding a way to your pillow. It reduces their chances of finding a haven to thrive and multiply. It eventually results in them declining in number and them becoming non-existent.