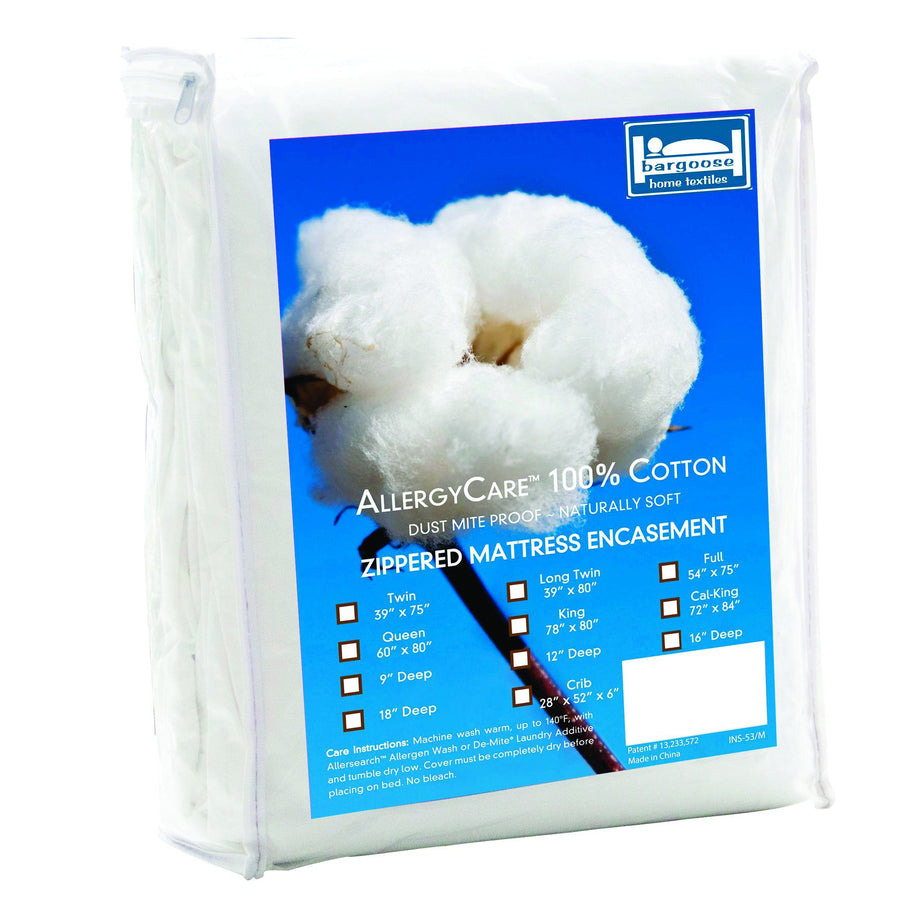 AllergyCare™ - Cotton Zippered Mattress Encasement Protector by Bargoose Home Textiles
Getting quality sleep is very important for all of us. If you want you and your family to be safe and take your well-deserved rest after a long day, get AllergyCare™ Cotton Zippered Mattress Encasement Protector.

It is essential to keep your mattress hygienic and clean as you will be sleeping on it for many years to come. It is made from the finest and deluxe 283-thread count organic cotton fabric that offers nothing but extreme comfort. It also features a heavy-duty drop zipper with a metal closure that is rust-proof. 
Our cotton allergen barrier mattress cover is the most natural and breathable sleeping surface you can find on the market today.
This ultra soft and gentle cover has an anti-allergen and anti-microbial weave with 5.6-micron pores. Even the tiniest dust mite won't be able to fit through.
Sleep soundly knowing your sheet is OKEO-TEX-certified and has been tested by Porous Materials Inc. Our USA-based family company has been creating premium bedding and hypoallergenic products for children and adults who suffer from allergies and sensitive skin.
AllergyCare™ is a luxurious way to protect you and your mattress. It is also perfect for families with kids, those who have asthma or allergies, and those with chemical sensitivities or sensitive skin.
Easy Care Instructions: Machine wash hot water up to 140°. Do not use any chlorine bleach. Machine dry on medium setting.
Special Note: Cover must be completely dry before putting on mattresses or pillows.
Looking for something special. Whether you need a custom size mattress cover, duvet cover or pillow cove we have you covered. We manufacture each item to meet your exact specifications, ensuring a perfect custom fit. Sewn-in the USA. 
Commonly asked questions about mattress covers.
#1. Do I need to wash to cover first?
No. You can but is not necessary. We do not treat any of our fabrics with any chemicals or antimicrobial coatings. Please note that we do not accept the return of washed bedding unless is defective.
#2. Do I need to clean my mattress before putting on the cover?
No. You can vacuum the mattress, but it is not necessary. If you choose to spray the mattress with anti-allergen spray or steam clean make sure the mattress is completely dry before you put on the new cover.
#3. How often do I need to wash the cover?
We recommend that you wash the mattress cover once or twice a year. Pillow covers may be washed a bit more often (we wash ours about every 4-6 weeks). It is important that sheets and pillowcases be washed weekly.
#4. Does the cover need to fit tightly on the mattress? 
No. It is best if the cover fits loosely. If the cover fits snugly the mattress may feel stiff and the seams and zippers will be stressed.
#5 I have a mattress pad.

 

Is it better to put the pad on top of the cover or put the pad on the mattress and cover them both?
In most cases we recommend you cover both the pad and the mattress with the cover. This way you don't have to remember to wash the mattress pad.
#6 How do I measure the depth of my mattress?
Using a tape measure or ruler measure from the bottom, where it rests on the box spring, to the top of the mattress. If you have a pillowtop mattress or topper, a memory foam pad, or other mattress pad that you want to encase along with your mattress, include this in the total height measurement. 
How do you put a mattress cover on?
Remove the blankets and sheets.
Slide the mattress down towards the foot of the bed and standard up, if you have a footboard slide it to the side and stand it up.
Position cover on the top side of the mattress and work it about halfway down the mattress.
Lay the mattress back down and finish pulling the cover-up and zip closed.
Put on a clean set of sheets and enjoy a great night's rest.