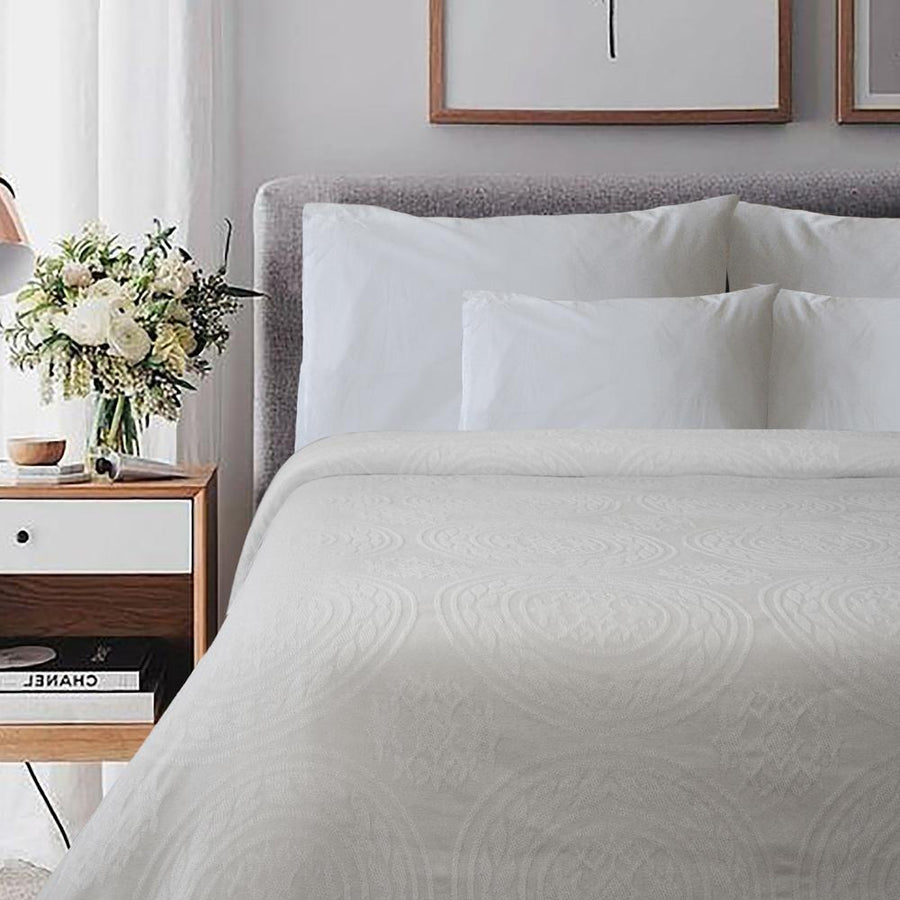 Medallion Jacquard Bedspreads
Enhance Your Hotel's Bedding Collection: Discover Luxurious Cotton-Rich Medallion Woven Bedspreads from Portugal!
Indulge your guests in the epitome of comfort and style with our exquisite cotton-rich woven jacquard bedspreads, meticulously crafted in Portugal. Drawing inspiration from the latest trends, these timeless creations promise to elevate your guests' sleeping experience to unparalleled heights.
Embrace the seasons with ease, as our versatile bedspreads offer the ideal coverings for both spring and summer months, providing the perfect balance of comfort and breathability. During fall and winter, these bedspreads add a captivating touch of sophistication and style to every bed they grace.
Choose from classic White or warm Natural tones to complement your hotel's aesthetic seamlessly. Rest assured, our bedspreads hold the prestigious Oeko Tex Certification, ensuring they are free from harmful substances and environmentally friendly.
Crafted with attention to detail, our bedspreads feature rounded corners and a self hem, exuding a refined charm that will impress your discerning guests. Maintenance is a breeze, as these bedspreads are machine washable and tumble dry friendly, with controlled shrinkage of a mere 5%. Say goodbye to tedious ironing, as our bedspreads emerge from the dryer looking immaculate.
Designed for durability and longevity, our Medallion pattern bedspreads boast a luxurious blend of 65% cotton and 35% polyester. The perfect harmony of comfort and practicality, making them the ultimate investment for your hotel or multi-unit property.
Elevate your guests' sleep experience with these premium bedspreads, straight from Portugal's rich heritage of textile craftsmanship. Available in Twin & Full (case pack of 6) and Queen & King (case pack of 4), elevate your hotel's bedding collection with these timeless treasures, crafted to impress and endure.
Available in White or Natural
Rounded Corners
Self Hem
Machine Wash/Tumble Dry
Shrinkage Controlled (Maximum of 5%)
No Ironing Needed
65% Cotton / 35% Polyester Blend
Made in Portugal
Twin & Full - case pack of 6, Queen and King - case pack of 4