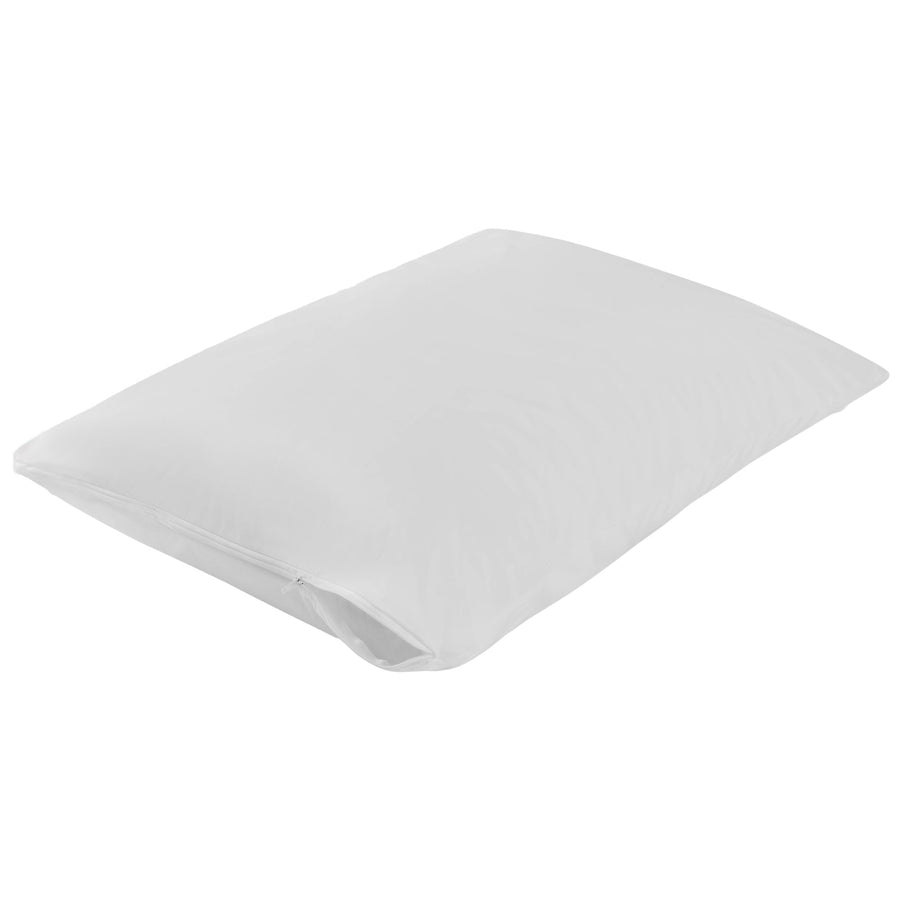 Bargoose Standard Zippered Pillow Cover (White) | T-130 Cotton/Polyester Blend | Case Pack Available
Bargoose Standard Zippered Pillow Covers offer best-in-class protection to your pillows from external damage. Our imported pillowcases are made from high-quality material to ensure durability and protection.  These come with overlock stitching to ensure no raw edges. The rust-proof polyester zippers promise lasting protection to your pillows.
The standard zippered pillow protector will:
Beautify the look of your space

Protect your pillows from dirt and damage due to heavy usage

Enhance the sleeping experience for yourself or your guests

Long-lasting, durable built that stands the test of time

Easy to clean and maintain as good as new
Recommended for: Fine Homes, Hotels, Resorts, Luxury Properties
Product Features:
T-130 Cotton Polyester Blend -The covers are made of superior quality

T-130 Cotton/Polyester Blend

fabric. The wrinkle-free material enhances the look of your space. It is also highly durable and can stand the test of time. The material also improves the sleeping experience by preventing overheating.

Crisp White Color - The beautiful clean-looking pillow covers in

white

fit into your decor seamlessly. Enhance your guests' experience of the stay by giving your place a fresh, tranquil look. The color also makes it easy for you to identify when it's time for a quick clean.

Easy-To-Clean - Protecting your pillows from dirt, sweat, spillages, etc., calls for timely cleaning of the pillow covers. Bargoose's

standard zippered pillow covers

are easy to clean. Simply put them in the washer for a gentle rinse or hand wash them in soap and warm water.

Overlock Stitching - Raw edges are our biggest pet peeve! So we ensure there are none in our products. The edges of all our pillowcases are

overlock stitched

for the ultimate finishing touch. No frayed edges also add years to the life of your pillowcases while making them look like the superior cases that they are.

Rust-Proof Polyester Zippers - Rust stains on pillowcases after a few washes can take away their charm, forcing you to replace them with new ones. We take care of this issue by using

rust-proof polyester zippers

in our pillow covers. These help retain the pristine

white

look of your pillow covers without usage hassles.