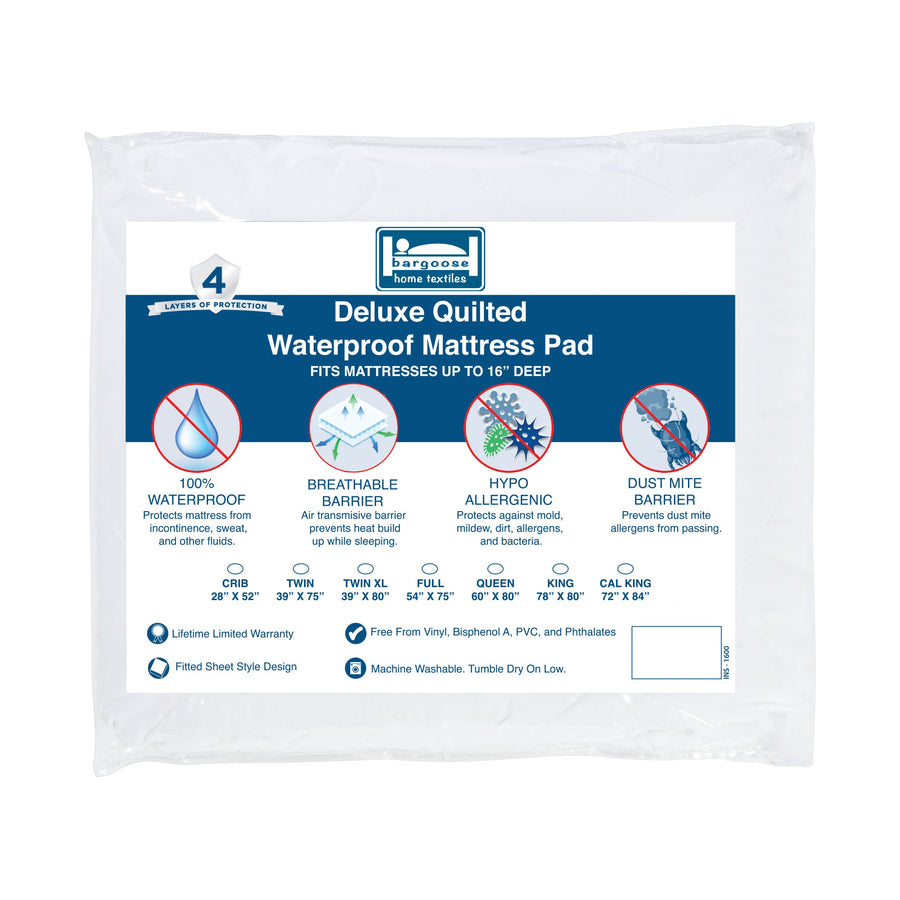 Deluxe Quilted Waterproof Mattress Pad
Say yes to a peaceful good night's sleep with the Deluxe Quilted Waterproof Mattress Pad from Bargoose Bedding! This innovative mattress pad is designed to protect your mattress from spills, stains, and accidents, and keeps your mattress as good as new for the longest time! 
What makes our Deluxe Quilted Waterproof Mattress Pad the best choice for your bedding? 
Premium Material:

 

Its design is characterized by a quilted pattern. The top layer of the pad is made of cotton polyester to promote better sleep, while the polyester knit with poly­urethane laminate on the bottom layer keeps you cool and dry throughout the night.
100% Waterproof:

 

The mattress pad is 100% waterproof and features a polyurethane barrier that blocks liquids from penetrating through to the mattress, ensuring your mattress stays clean and dry. The barrier is also breathable which allows air to circulate, preventing any buildup of heat and moisture.
Allergen Barrier:

 

This mattress pad is hypoallergenic, making it a perfect fit for people with allergies or sensitive skin. It covers your bed snugly, keeping away common allergens like pet dander and dust. 
Secure Stretch Skirt:

 

It has a well-fitted stretch skirt that you can use on all mattresses up to 16 inches in depth. The skirt stays securely in place, so even if you tend to move a lot during your sleep, the bedding cover will remain intact. 
Extra Comfort:

 

This mattress pad also adds an extra layer of cushioning to your bed, making it all the more comfortable to sleep on. There are walls between the top and bottom layers of the pad, ensuring the polyester filling doesn't move around or become clumped.
Don't let accidents ruin your sleep or your mattress. Protect your mattress and ensure a comfortable and uninterrupted sleep with our Waterproof Mattress Pad, and extend the longevity of your mattress. Order yours today! 
Deluxe Quilted Waterproof Mattress Pad Available in 6 Sizes
Our waterproof mattress pad will stretch to fit a 16" deep mattress of the following standard sizes:
Crib

Twin 

Hospital Twin

Twin XL

Full 

Full XL 

Queen 

King 

California King 
Includes 12 Month Warranty 
Join 25+ years of customers who are enjoying restful dry sleep… Click Add-to-Cart to order your Deluxe Quilted Waterproof Mattress Pad Today!
Care instructions: Machine wash the pad in warm water and tumble dry on low heat. Do not use chlorine bleach.